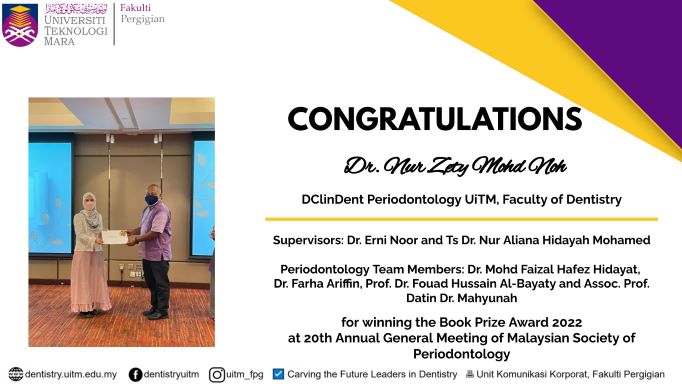 Recently graduated from Universiti Teknologi MARA in Doctor of Clinical Dentistry (DClindent) of Periodontology. During her study, she was supervised by Dr. Erni Noor, senior lecturer in Periodontology, and Ts Dr. Nur Aliana Hidayah Mohamed, senior lecturer in Preclinical Sciences Studies.
She is awarded with Book Prize Award 2022 at the 20th Annual General Meeting of Malaysian Society of Periodontology. This Book Prize Award is an annual award, which started around 12 years ago, awarded by Malaysian Society of Periodontology (MSP) to the final year periodontics postgraduate resident who were recently graduated.
In this award, all nominees from each local university will be judged for evaluation by a panel of judges based on several criteria's, including clinical experience during postgraduate years, postgraduate research project, participation in local/International conferences, awards received for research presentation, academic excellence, and journal publication.
According to Dr. Zety, this award is everyone's victory. She thanks her team members in UiTM Periodontics team, especially the lecturers; Dr. Mohd Faizal Hafez Hidayat (Head of Department), Dr. Farha Ariffin (Postgraduate Director), Prof Dr Fouad Hussain Al-Bayaty and Associate Professor Datin Dr. Mahyunah for the knowledge and guidance throughout her study. Not to forget, the batchmates that assisted her during the study, Dr. Nurul Qamar, Dr. Sharul Nisha and Dr. Yuliana.
May this excellent achievement motivate UiTM student specifically Faculty of Dentistry to strive persistently and be successful.
Pelajar DClindent Periodontologi UiTM memenangi Anugerah Hadiah Buku 2022.
Baru-baru ini seorang pelajar pasca siswazah Universiti Teknologi MARA dalam bidang Doktor Pergigian Klinikal Periodontologi telah memenangi Anugerah Hadiah Buku 2022. Semasa pengajiannya, beliau diselia oleh Dr. Erni Noor, pensyarah kanan dalam Periodontologi, dan Ts Dr. Nur Aliana Hidayah Mohamed, pensyarah kanan dalam Pengajian Sains Praklinikal.
Beliau dianugerahkan dengan Anugerah Hadiah Buku 2022 pada Mesyuarat Agung Tahunan ke-20 Persatuan Periodontologi Malaysia. Anugerah Hadiah Buku ini adalah anugerah tahunan, yang bermula sekitar 12 tahun yang lalu, dianugerahkan oleh Persatuan Periodontologi Malaysia (MSP) kepada pelajar pasca siswazah tahun akhir yang baru menamatkan pengajian. Dalam anugerah ini, kesemua calon daripada setiap universiti tempatan akan dinilai oleh panel hakim berdasarkan beberapa kriteria, termasuk pengalaman klinikal semasa tahun pasca siswazah, projek penyelidikan pasca siswazah, penyertaan dalam persidangan tempatan / antarabangsa, anugerah yang diterima untuk persembahan penyelidikan, kecemerlangan akademik, dan penerbitan jurnal.
Menurut Dr. Zety, anugerah ini adalah kemenangan buat semua. Beliau mengucapkan terima kasih kepada ahli pasukannya dalam pasukan Periodontik UiTM, terutamanya para pensyarah; Dr. Mohd Faizal Hafez Hidayat (Head of Department), Dr. Farha Ariffin (Pengarah Siswazah), Prof Dr Fouad Hussain Al-Bayaty dan Profesor Madya Datin Dr. Mahyunah untuk perkongsian ilmu pengetahuan dan bimbingan sepanjang pengajiannya. Tidak lupa juga buat rakan-rakan kumpulan yang membantunya semasa kajian, Dr. Nurul Qamar, Dr. Sharul Nisha dan Dr. Yuliana.
Semoga pencapaian cemerlang ini memberi motivasi kepada pelajar UiTM khususnya di Fakulti Pergigian, untuk terus berusaha dan mencapai kejayaan yang cemerlang.